Bitcoin Films, documentaries and Movie
Films and documentaries about Bitcoin
Documentation about Bitcoin and Blockchain helps to describe a technology in a simple and clear way.
In addition to a technological explanation, you also get an insight into the idea and the version behind the technology.
Why was Bitcoin created? What are currencies and what influence do financial systems have on our daily lives.  Most documentaries were created at an early stage of development and focus more on the ideological idea and less on the idea of investing in Bitcoin and crypto currencies.
Especially in the English language it is a "must", the documentaries "The Rise and Rise of Bitcoin" and "Bitcoin. The End of Money (as we know it)" in order to understand the topic of Bitcoin and the visions behind it.
Unfortunately there is only a very small number of good documentaries in German language. It is recommended to watch the English documentaries with German subtitles.
In the Blockchain section, the documentaries by 3sat/ZDF "Welt ohne Banken" and "Die Blockchain Revolution" can be recommended.
No Records Found
Sorry, no records were found. Please adjust your search criteria and try again.
Google Map Not Loaded
Sorry, unable to load Google Maps API.
Bitcoin Documentary | The Unbelievable Story Of Mark Karpeles Bitcoin

mehr Info

Bitcoin Castle Schloss Bitcoin is a short german film that

mehr Info

Bitcoin: The End of Money (as we know it)is a

mehr Info

Bitcoin Mining is a documentation of CBS News in English

mehr Info

The Rise and Rise of Bitcoin Rise and Rise of

mehr Info

The Bitcoin Gospel – VPRO documentary The Bitcoin Gospel is

mehr Info

Bitcoin: Beyond the Bubble a documentary from the year 2018.

mehr Info

Bitcoin in Switzerland is a documentation by Cointelegraph from 2018.

mehr Info

Good Bye Money Welcome Bitcoin English documentation 2016 The YouTube

mehr Info

Life On Bitcoin (2013) A common argument from Bitcoin sceptics

mehr Info

Banking on Bitcoin is a Netflix documentation from 2017 in

mehr Info

Deloitte: Future of Blockchain (2016) Better read the following lines

mehr Info

We and the Blockchain (The Blockchain and Us) (2017) –

mehr Info

The Bitkan documentary deals with the revolutionary history of Bitcoin

mehr Info

The Bitcoin millionaires – Taking full risk (Docu) (2018 for

mehr Info

World without banks? The Internet turned the world of retail,

mehr Info

The Blockchain Revolution A 3sat documentary of 24 January 2019

mehr Info

Magic Money: The Bitcoin Revolution is an English language documentary

mehr Info
Search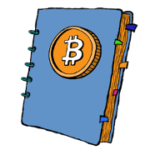 Unterstütze Coinpages